Fly Fisherman TV
A while back I got a call from and old friend and guiding compadre' Justin Karnopp. Over the last few years, Justin had made the leap from the guiding world into being a "BIG TIME" television producer. As it turned out, the outdoor production company he worked for was planning on making a new fly fishing show.The show was to have a little different spin than your ordinary fishing show. It seemed they were not only looking to show beautiful fly fishing destinations, and "glorious" fish species targeted with a fly rod, but they wanted to add an instructional element as well. In brainstorming for potential hosts Justin had brought my name into the mix because he felt that my diverse background in teaching, fishing, guiding and sport may lend itself beneficial to the show. So, he called me.
In explaining the situation, he mentioned the opportunity, but also mentioned there were a few others trying out, some with prior television experience, and that it was a long shot. Of course I was stoked just to be mentioned, and went for my screen test on a cold December day. Well a little time went by, and I didn't give it much thought as the words "long shot" echoed in my mind, When Justin called and said... "Well this gig is yours if you want it." I told him I would have to think about it for a while as I had a lot of other things I needed to do in January, February, and March... YEAH RIGHT!! Excited just doesn't cover it... What an unbelievable opportunity!
The show, called "Fly Fisherman," (just like the magazine & owned by the same company) is an instructional based fly fishing show filmed in some of the most beautiful fly fishing destinations in the world (Including right here on our home waters). It airs on the The sportsman's Channel, and Wild TV (in Canada). My co-host is a young woman who is quickly becoming one of the "who's who" in the fly fishing world, Nicole Darland. You have probably seen her face on the cover of one of you favorite fly fishing magazines. Over the last 15 years, she has grown with the sport, and now owns Xclusive Xpeditions, an international fly fishing and adventure travel business.
We have now almost completed shooting the footage for our second season, and have chased warm, cold, and salt water species with a fly rod in places like the Patagonia region of Chile, The Everglades of Florida, the Beautiful southern coast of Texas and of course we have spent a lot of time filming in our own beautiful backyard of Montana. Check out the brand new episodes of season two coming to the Sportsman's Channel in Mid March!! Click on this link for show times.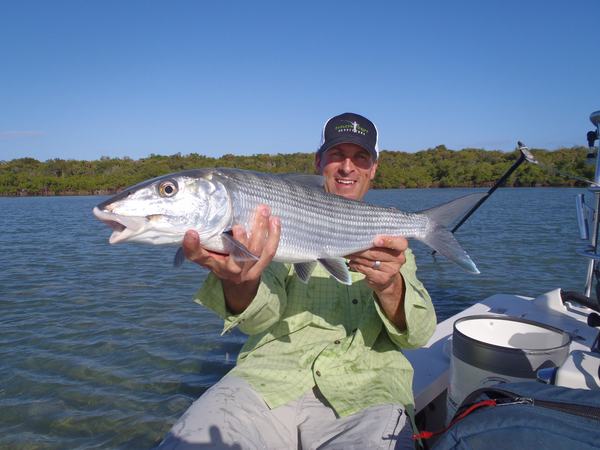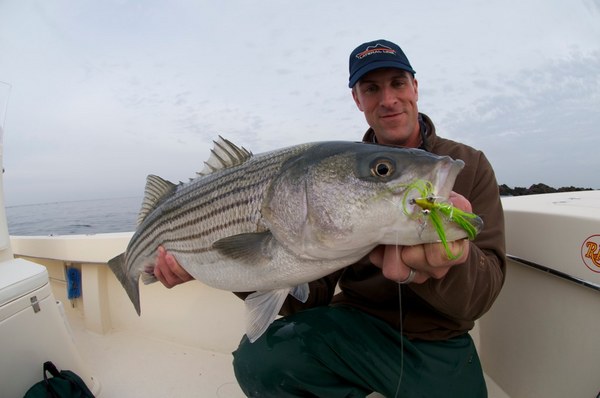 Chesapeake Bay Striper (Brandon White Photo)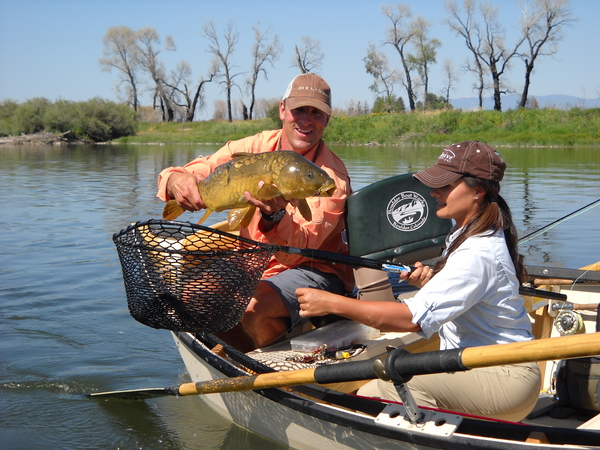 Upper Missouri River Carp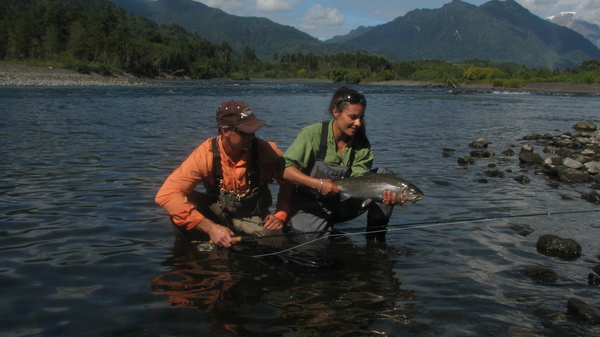 Huge Patagonia Rainbow